Together with whiskey and rum, wine is also suitable for refining and perfecting the taste experience of a cigar. This article will introduce you to some principles and recommendations on how to pair full-bodied red wine, white wine, or champagne with the right VILLIGER cigars.
Both tobacco and wine are a matter of taste. The preferences for wine and cigar pairings are just as diverse. Nonetheless, there are a few principles to consider when choosing a wine to go with a cigar or vice versa.
Wine with a cigar – the principles
A cigar changes character as you smoke it, making it advisable to pair it with different beverages throughout the smoke, so you get the most out of the experience. However, the following principles apply regardless of how far the smoke has progressed:
Neither wine nor cigar should dominate – otherwise, you won't be able to note the flavors of both equally since one is overpowering the other.
Sharp and bitter don't go well together. Cigars release some bitter notes throughout the smoke. Thus, you should choose a wine with low acidity.
The colder the wine, the more undesirably acidic the cigar will taste. Therefore, make sure that the wine (including white wine and champagne) is not served too cold when accompanied by a cigar.
Technical and emotional match
In addition to these principles, there are aficionadas and aficionados who point out the difference between the technical and emotional match of wine and cigars. The technical match involves looking at the aromas of a cigar and a wine. The more these flavors complement and enhance each other, the greater the technical match.
The emotional match is an individual preference. If you only consider this aspect, you can match any wine with any cigar. In other words, it makes little sense to drink a wine you don't like with a cigar just because the experts recommend it for technical reasons. The following tips for combining wines with cigars also consider its technical aspects.
Heavy red wines – strong cigars
Heavy-bodied red wines like Bordeaux, Amarone, or sweet port go well with strong cigars from Cuba or Nicaragua. For example, we recommend our VILLIGER LA MERIDIANA. Delivering typical notes of wood, pepper, and coffee, this cigar offers lovers of spicy and strong flavors an excellent selection of these valuable tobaccos. When correctly enjoyed, it allows for a balanced smoking pleasure with voluminous smoke and distinctive mild-tart flavors.
Strong red wines – robust cigars
Strong red wines like Cabernet are best paired with a robust cigar. Our VILLIGER CORRIDA NICARAGUA Robusto+, for example, fits perfectly. It is profound and multi-layered. Its dominant strength showcases the robustness and distinctiveness of Nicaraguan tobaccos. The strong Cabernet and the powerful Taurus are an equal match. Thus, no taste overpowers the other. Instead, both can fully develop their flavor and even enhance each other.
Full-bodied, dark red wines – sweet smoke
Cigars with sweet smoke should be enjoyed with a full-bodied dark red wine like Merlot. We recommend pairing a Merlot with a VILLIGER SAN'DORO CLARO Robusto. They make a fabulous pair. Because this fine cigar with a slightly spicy aroma is mild, rich, and sophisticated. Its fully developed aromas are complex and complement each other perfectly. The taste is dominated by mild, earthy, and woody roast aromas, which are accompanied by a light creaminess.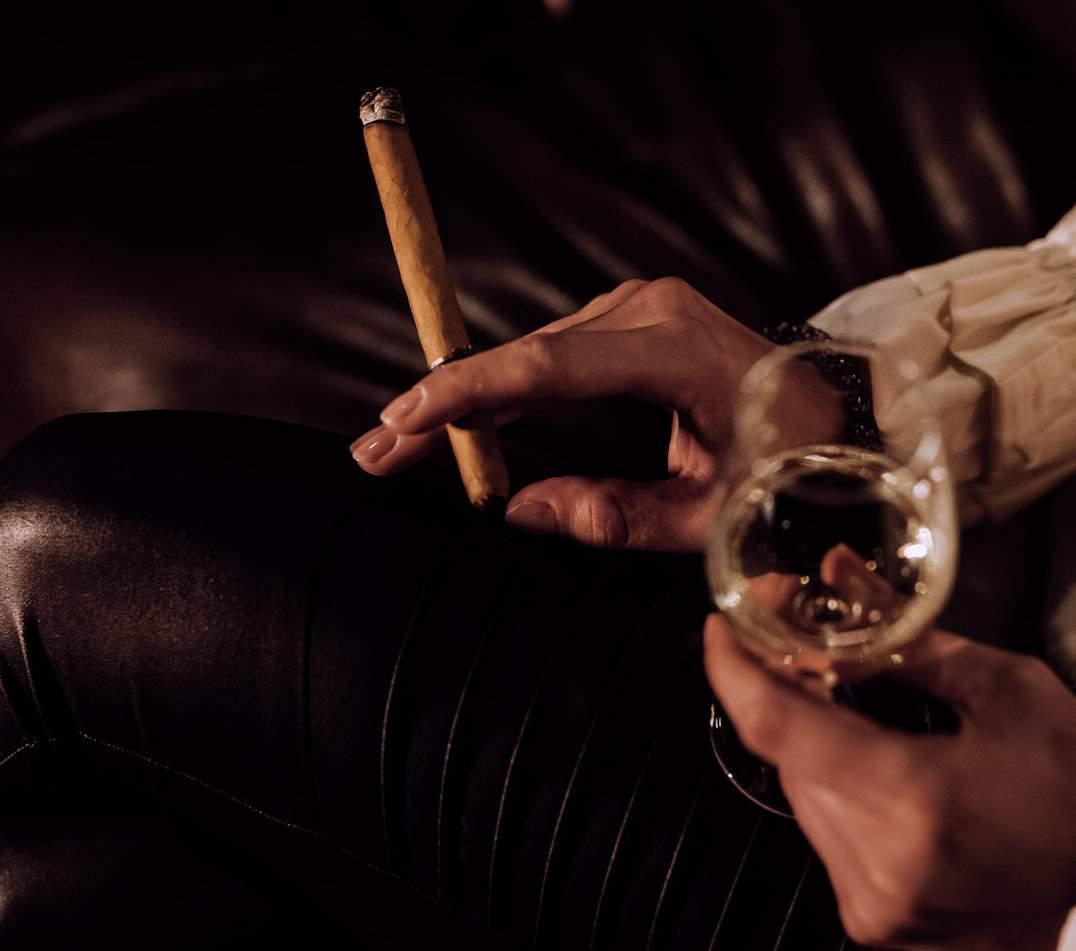 White wine – mild cigars
Our mild VILLIGER DO BRASIL CLARO goes well with white wines such as Chardonnay or Riesling. This creamy cigar develops aromas of clove, musk, and cedar. The entire composition allows for an aromatic cigar experience.
Sparkling wine – dry with mild cigars
As explained in the principles, the bitterness of a cigar paired with the acidity of wine or champagne is a dangerous mixture. Suppose you still like to enjoy champagne with your cigar. In that case, we recommend pairing a dry sparkling wine with a cigar that is as mild as possible. We recommend the VILLIGER 1492. Its light taste and mild composition of tobaccos from the Dominican Republic, Ecuador, and Nicaragua make it popular with cigar novices and champagne connoisseurs alike.
Whiskey, beer, or coffee
Wine is an exciting way to improve the taste of cigars. Whiskey, beer, or coffee are also popular companions to improve tobacco enjoyment. You can find out which other drink and cigar pairings work well by reading The 10 best drinks to pair with a cigar.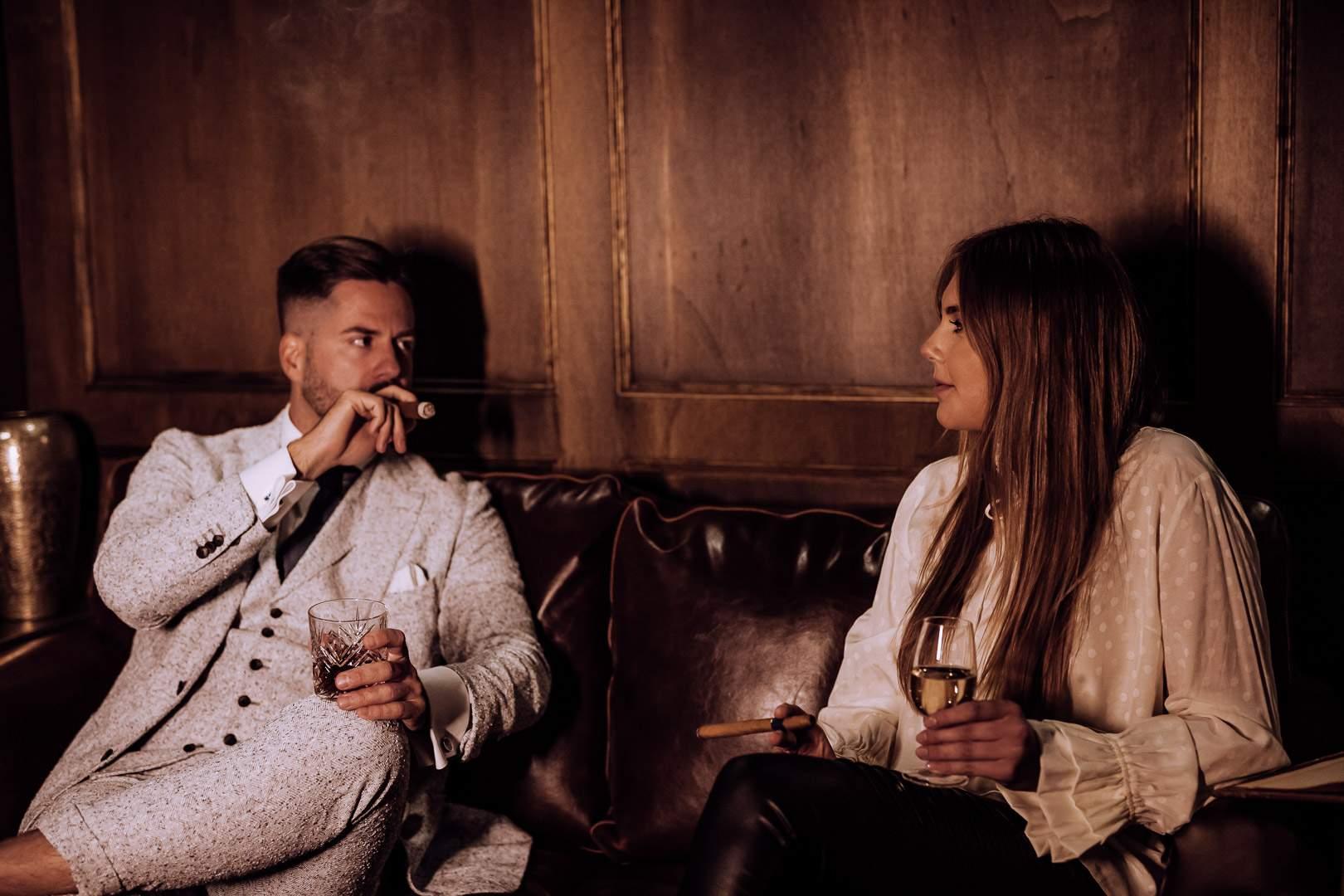 Read the next story
VILLIGER's commitment to a sustainable mountain environment.