Delicious chocolates, a decent wine, exclusive whiskey, rum, or gin are welcome gifts for all sorts of occasions. Cigars, however, are seldom a present. There are numerous solid reasons and options to give newcomers, experienced aficionados, and the occasional tobacco connoisseurs alike a welcome present from the cigar world.
It can be kind of daunting to gift someone a cigar without knowing whether they'll enjoy it or what their preferences are. However, the same applies to chocolate, wine, and whiskey, but we still go for it and make sweet, fruity, or peaty presents. We will provide you with some information that will help you in deciding on what cigar to gift.
Many suitable occasions
At www.noblego.de, it is evident that the festive days are the ideal opportunity to smoke a cigar, and, as a result, receive one as a gift. Because "you're relaxed and can open up to novel pleasures." There are numerous other moments, apart from the annual recurring gifting opportunities like birthdays and Christmas, that are a suitable occasion for spoiling cherished friends and loved ones with a cigar or accessories. It can be a passed exam or a completed apprenticeship. The successful realization of a private or professional project or the acquisition of a new customer can be celebrated with a gifted cigar. In a professional environment, promotions are fitting moments to show a colleague appreciation by gifting an exclusive cigar. In a private setting, housewarming parties, the birth of a child, and weddings are an ideal reason to gift cigars and also enjoy them together.
Why gift cigars
According to www.cigarworld.de, "cigars embody luxury and style." Furthermore, cigars "remain a status symbol, something exclusive, that is why it is such a sought-after present". The team at www.zigarre.de see not only the receiver's appreciation and passion for tobacco as crucial for the selection of the appropriate present: "The person making the gift wants to provide the receiving party with a moment of peace, a break to facilitate enjoyment." Given the busy daily routine and hectic pre-Christmas period, a cigar permits one to concentrate on the essential things in life. Thus, it is of little relevance if the recipient of the gift is a passionate aficionado or never smoked a cigar before; the consideration is all that counts. However, the format and origin of a cigar have a significant influence on the tobacco experience of the person receiving the gift.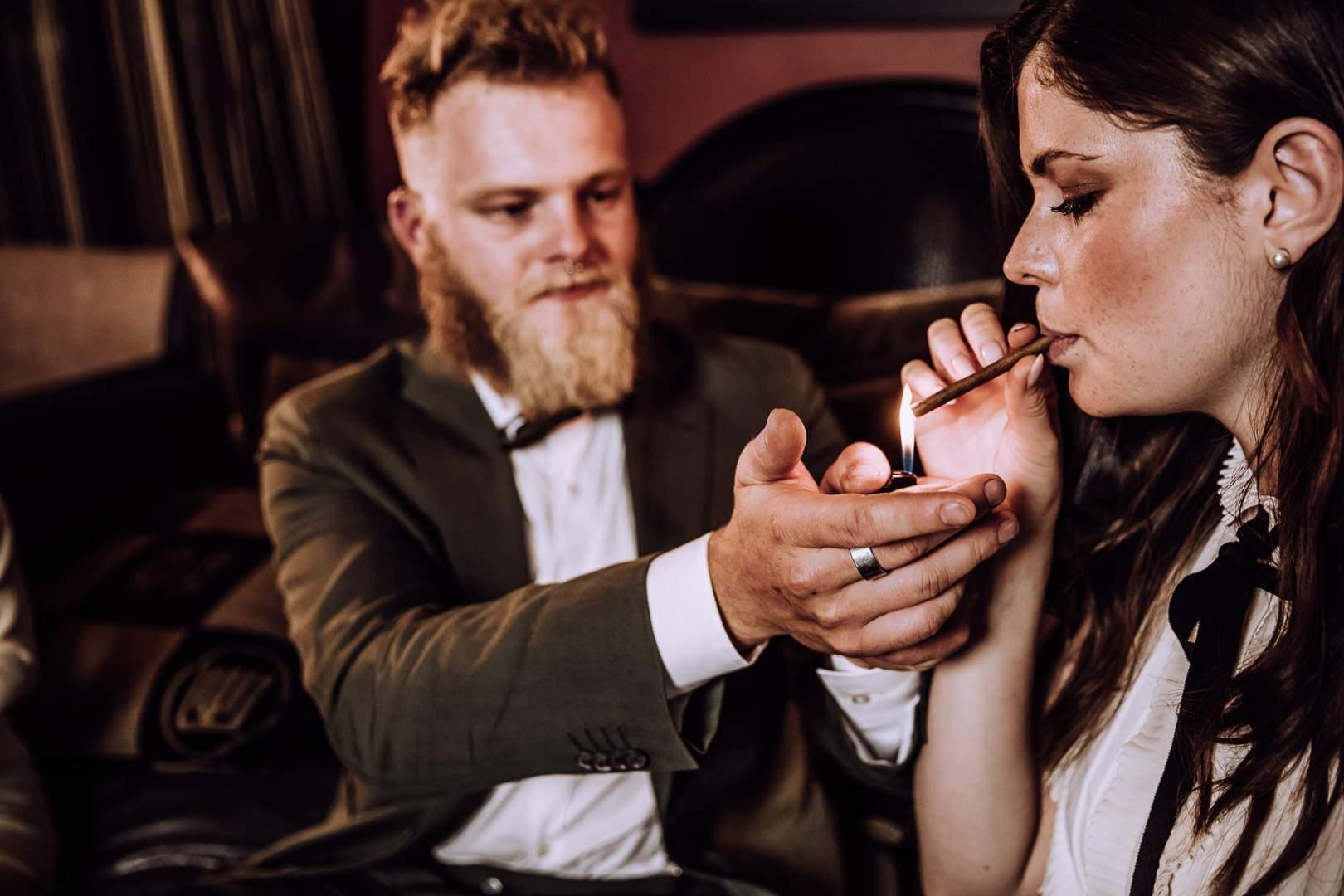 Beginners or seasoned connoisseurs
For the VILLIGER customer service, the most vital criterion when gifting a cigar is whether someone prefers mild or strong cigars. VILLIGER recommends going for milder cigars if you don't know the recipient's preference or if they are new to cigar smoking. Www.noblego.de notes that it is a "particular good idea to think about cigars as a present" for experienced aficionados, which tend to smoke only one brand. You can either go for the respective known and loved brand, or broaden the horizon by gifting something novel.
To ensure that the gifted cigar is something to show for, one might be tempted to buy something expensive, robust, and large. However, www.cigarworld.de encourages gifting these only if the recipient is an "experienced cigar expert that appreciates quality and tolerates large formats," such as the VILLIGER LA MERIDIANA Gigantes. The VILLIGER 1492 or VILLIGER BOCK tend to be more suitable for beginners. Mild cigars that often have a greenish to light brown wrapper are also suitable for beginners and connoisseurs with a preference for a less robust, spicy smoking pleasure. At www.zigarre.de, they know that you can't go wrong when gifting cigars in the Robusto format. Experienced smokers will appreciate unique formats like a Churchill, which promises a long smoke. The recommendation of www.starkezigarren.de is to gift experienced smokers with something original or exotic while giving beginners something that is easy to start with but beckons for more. The VILLIGER customer service wants to point out that no cigar is not worthy of being a present.
Format and origin
As described above, smaller and milder formats are more suitable for beginners; more massive and robust cigars are ideal for experienced connoisseurs. According to www.starkezigarren.de, long-term aficionados can be surprised with an exotic present to show that there are still unexplored areas. Cigars from China, for example, are difficult to obtain here and have quite a bit to offer in terms of quality and taste. Cigars from Maryland tobacco, which is only growing near Washington, D.C., are brilliant gifts based on their limited availability. Suppose you want to give away more than one cigar. In that case, www.noblego.de recommends a so-called sampler, which is a set of "various cigars to cover a broader taste spectrum." These kinds of samplers allow connoisseurs and beginners alike to taste several tobaccos. Plus, they are often packaged neatly. At www.zigarre.de, samplers are recommended, "if the favorite origin of tobacco is unknown, but the brand is, or a slightly more generous gift is envisioned".
Cigar accessories instead of tobacco
You can also gift a suitable tobacco accessory instead of a tobacco product. For newcomers, in particular, it makes sense to gift not only the cigar but also the suitable cutter and lighter. Thus, www.cigarworld.de recommends cigar sleeves, cases, or matches to get started. You can't go wrong with matches, the lighter, however, requires more thought since cheap petrol lighters will spoil the taste of the cigar. Ashtrays are also a suitable present. It can be a regular ashtray. However, the edge must be wide enough to allow the last third of the cigar, which is not usually smoked, to rest on it. The preferred option would be a dedicated cigar ashtray.
Humidors can also be a suitable gift, allowing beginners to store their cigars correctly. However, they are also the perfect gift for seasoned aficionados, that want to set up a space for the favorite cigars in their office, apartment, or holiday home.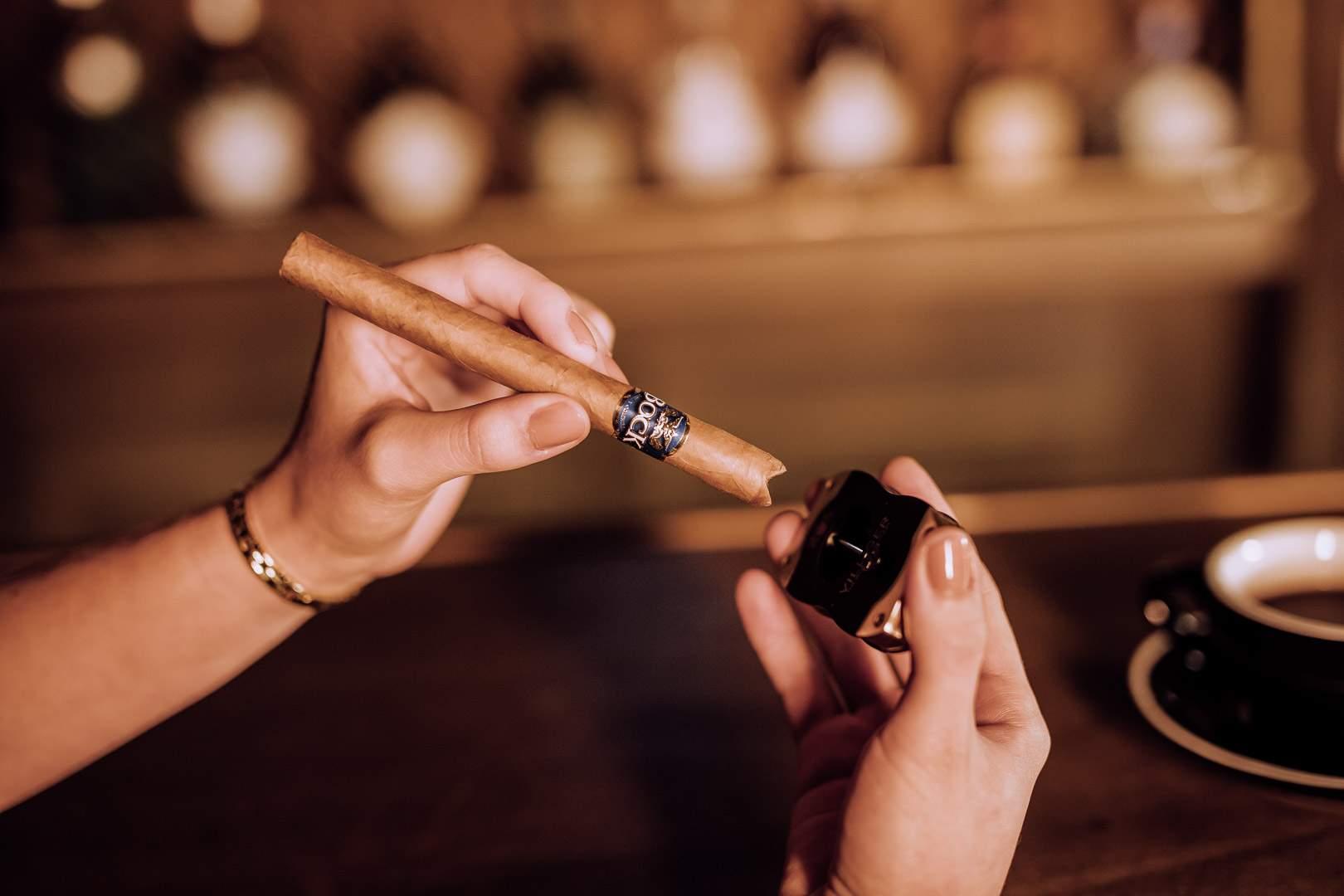 Gifting to women and telling stories
Women are often missing out on cigars as a gift based on the misconception that women and cigars don't match. However, www.cigarworld.de knows that not only women in glamorous social circles have succumbed to the boom of the cigars. The cigar portal describes this trend with the help of a one-line joke: "In the past, women bought good cigars for their lovers; today, more women are lovers of good cigars." Don't hesitate, after having it clarified sufficiently, to gift a cigar to a lady.
A Cigars is a carefully crafted art. Origin of tobacco leaves, the processing, format, and other peculiarities tell an exciting story about the creation of each cigar. It makes sense to add a booklet with the story and creation of the cigar, either as a booklet from the manufacturer or by writing down the information on a card yourself. Newcomers and aficionados alike will appreciate the additional information.
Have the courage and, for the next occasion, gift your friend and acquaintances a fine cigar.
Read the next story
VILLIGER's commitment to a sustainable mountain environment.