Right now, enjoying relaxing moments in a cigar lounge is not possible due to quarantine, self-isolation, or lockdown. To ensure aficionadas and aficionados don't climb the walls of their own home, we came up with a few ideas for enjoying a smoke at home.
Quarantine and closed cigar lounges do not mean that you can't enjoy a decent cigar anymore or have to do so alone. Just like working from home does not mean you can't see and catch up with your colleagues.
Enjoying the pleasures of a fine cigar via video call
Thanks to various video-calling platforms, you don't have to enjoy a relaxing smoke in solitude. This way, everyone can talk about anything and everything or exchange cigar-specific topics from anywhere in the world. Alternatively, you can send each other cigars and rate them. This activity is not limited to two but also possible in larger numbers. However, smaller groups are recommended for moments in which conversations should have a soothing effect. One person could play a record in the background to create a lovely mood for the group. Digital meetings of this kind do not substitute face-to-face meetings, like enjoying a smoke at a lounge or a friend's home. Let us not forget to meet each other once the quarantine or lockdown is over. Until then, let us smoke together via video call and make sure people can see you through all the smoke.
Setting up a connoisseur area
The more you smoke at home, and the more the quarantine or lockdown forces you to spend time at home, the more essential it is to set up a comfortable cigar area. Do you own a comfortable chair, and is the table where you store your ashtray practical? Maybe you use this table to store your tools like your cutter or lighter. The ambience is crucial if you want to enjoy the perfect smoke. You can also use pictures and suitable decoration to cater to personal taste. Do you like to listen to music while enjoying a cigar? Did you set up the perfect playlist already? Do these songs play from your smartphone or proper speakers with crystal clear sound? As you can see, there is much detail that you can pay attention to when setting up a cozy smoking area. Humans need an ideal ambience for smoking, and cigars need a suitable environment for storage – like a humidor.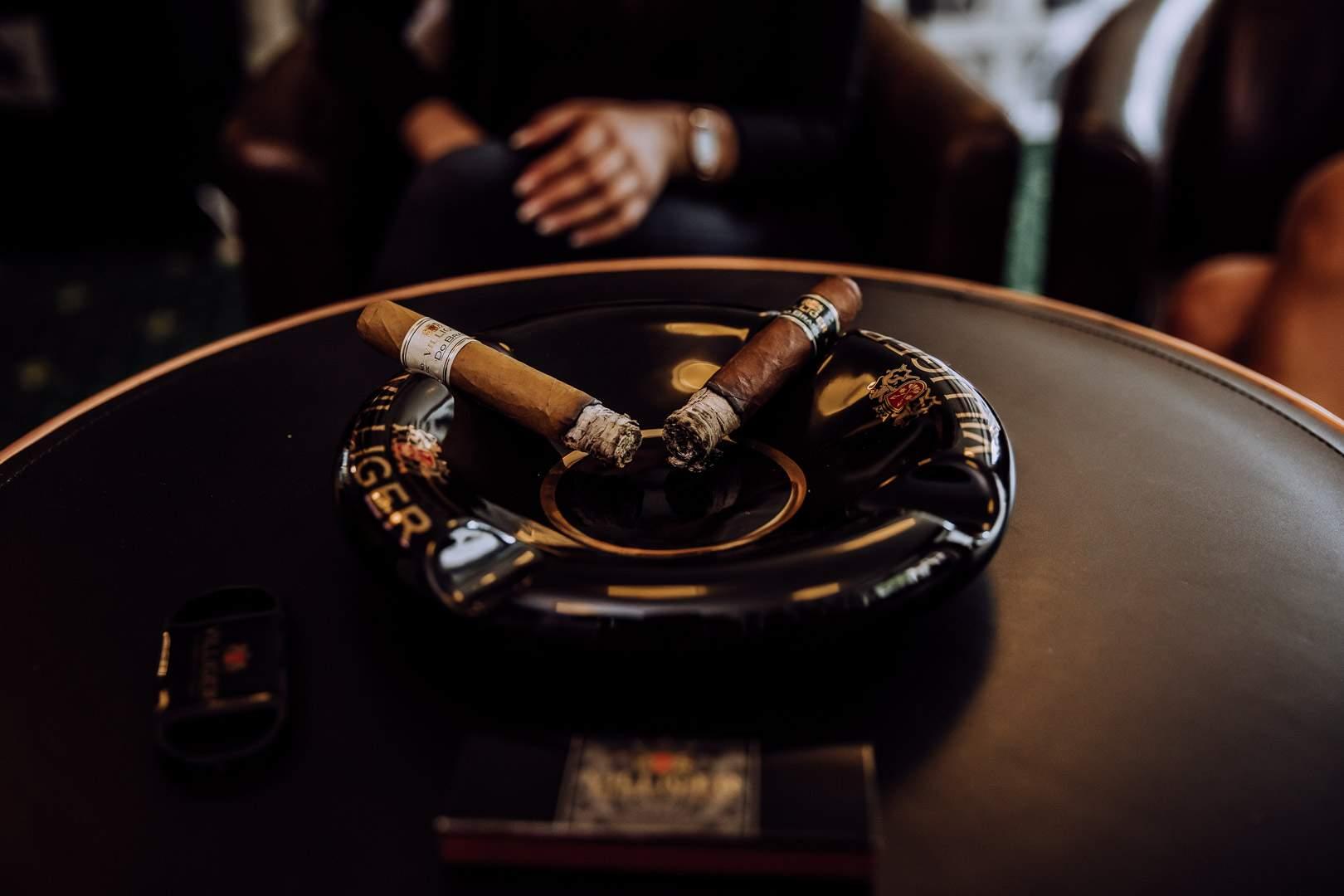 Humidor maintenance
You need a well-serviced humidor to store cigars over years or even decades. Just like a house or a flat, humidor maintenance involves periodic airing. Open your humidor every few days to ensure air exchange and prevent mold from growing. It is also the perfect moment to check on your cigars. Elastic and smooth cigars indicate ideal humidity. Check also if you can detect mold, or small holes, which indicate pests. Keep an eye out for resin stains. Resin can emerge from the wood and damage wrappers. You can remove resin with rubbing alcohol, don't use acetone – it leaves odors. Afterward, work the affected areas with fine sanding paper. You should also check the humidifier frequently. The humidifier must be refilled every few weeks, depending on the humidor's quality, the number of cigars stored, the number of times you open the humidor, the room temperature and humidity. Don't think of maintenance as a chore, but as a relaxing task that will increase your ability to enjoy a cigar in the long term.
Reading instead of talking
Once you've cared for your humidor and set up a comfy cigar area, you can use it to enjoy video calls with friends or to read a lovely book. How about "The Cigar Lexicon" by Dieter H. Wirtz, which teaches you "everything" about the cigar's history, origins, and varieties. How about "Rauch-Werk: Brevier zur Havanna" by Rainer Klis, whose anecdotal chapters dive into the cigar smoking culture. We recommend beginners start with Benjamin Patock's "Das Zigarrenbuch für Einsteiger: Praxistipps von Genussrauchern für Genussraucher." For many years now, Heinrich Villiger's library has contained an old book from Cuba with the title "Habanos." The patron describes this book as his standard reference for Cuban cigars.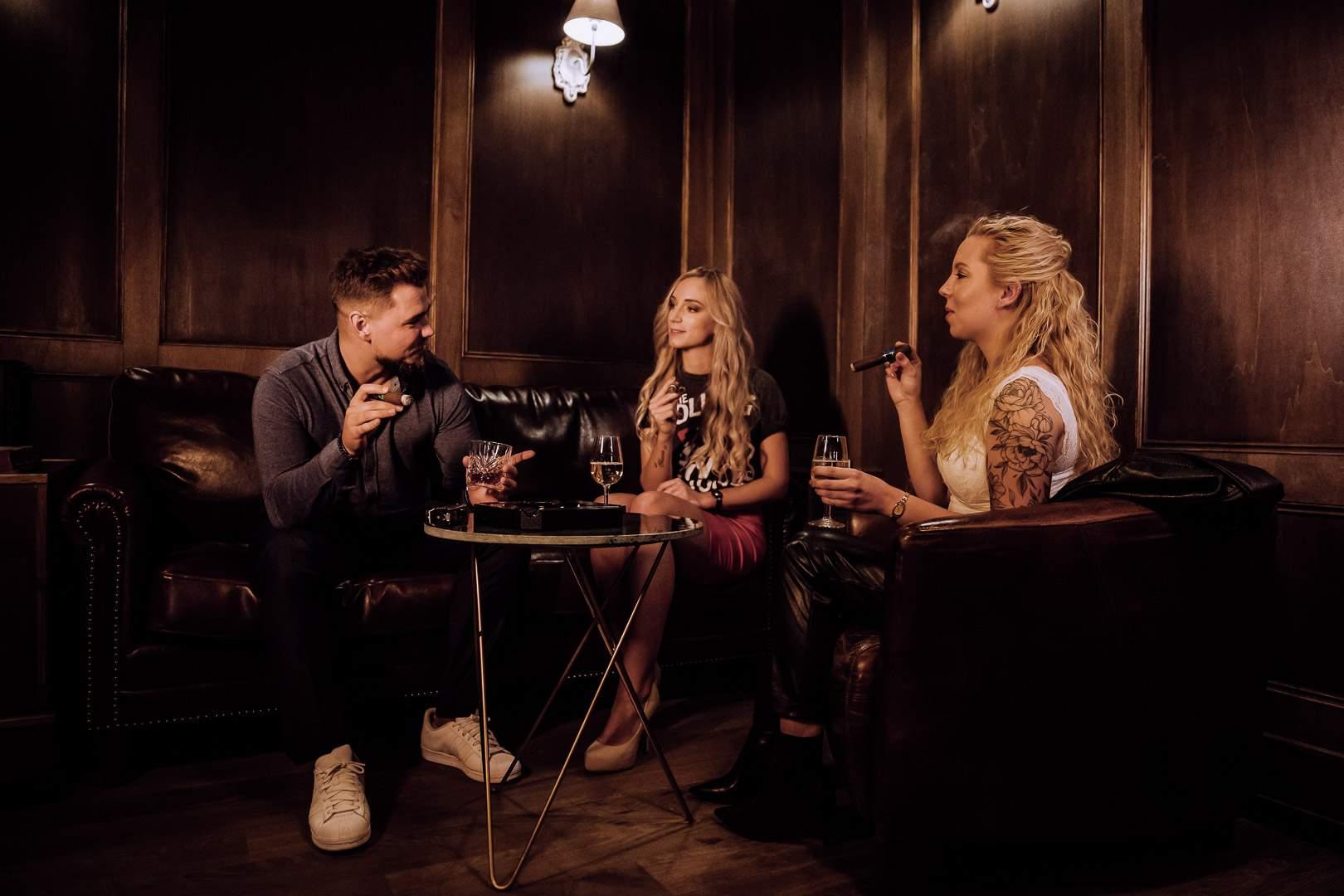 Blogs, videos, and social media
You don't need a book. You can also enjoy a good read online. Our Villiger blog will entertain you with exciting stories, provide you with helpful tips and ideas for cigar smoking. The Heinrich Villiger website contains exciting news articles, radio shows, and interviews about the 90-year-old patron of the Villiger Söhne Holding AG and Villiger Söhne AG. You can find even more information on our YouTube channel. Visit our Facebook and Instagram to stay updated on our latest products, news, upcoming events, and exciting prize draws. Follow us on Facebook and Instagram.
No cigar lounge substitute
Even if you made yourself a cozy cigar area at home, don't forget to leave the house once the quarantine or lockdown is lifted. Smoking cigars via video is practical. However, these digital meetings are no substitute for the socializing we only get to enjoy in a cigar lounge.
Read the next story
The VILLIGER team on the trail of Swiss tobacco