It is no coincidence that aficionadas and aficionados pair whiskey and cigars to get the most out of their smoke. In this article, you will discover why this is so, which pairings are most recommended and what you should bear in mind when you pair cigars with whiskey to get the best out of both partners.
Pairing tobacco with alcoholic drinks is by no means a European invention of modern times. As early as the 15thcentury, when seafarers discovered America, the Indigenous Americans not only "drank" smoke (e.g., in rituals with ceremonial pipes that brought people together), which was previously unfamiliar to Europeans, but also paired tobacco with an alcoholic drink made from corn.
Type matters more than strength
When you are looking for the most appropriate cigar and alcohol pairing, always bear in mind that it is not the alcoholic strength but the type that plays the major part. For instance, Calvados and whiskey have the same strength; yet, they have entirely different flavor profiles: Calvados, made from apples, is fruity and aromatic. Whiskey, made from grain, is bolder. Thus, the fusion of cigar and whiskey is much more intensive than other pairings. The pairing of whiskey and cigars became popular and socially acceptable, in particular, thanks to Hollywood.
Release and balance flavors
Why should you pair a fine whiskey with an exquisite cigar? The two simple chemical reasons are: On the one hand, not all tobacco aromas are released in the mouth since they do not dissolve in water (saliva) but alcohol. Hence, a sip of whiskey adds new flavors and enhances the bouquet. On the other hand, alcohol distributes the "volatile" aroma compounds of smoke throughout the mouth and supports their transport to the internal receptors, which allows aficionadas and aficionados to enjoy the tobacco flavor even more intensely.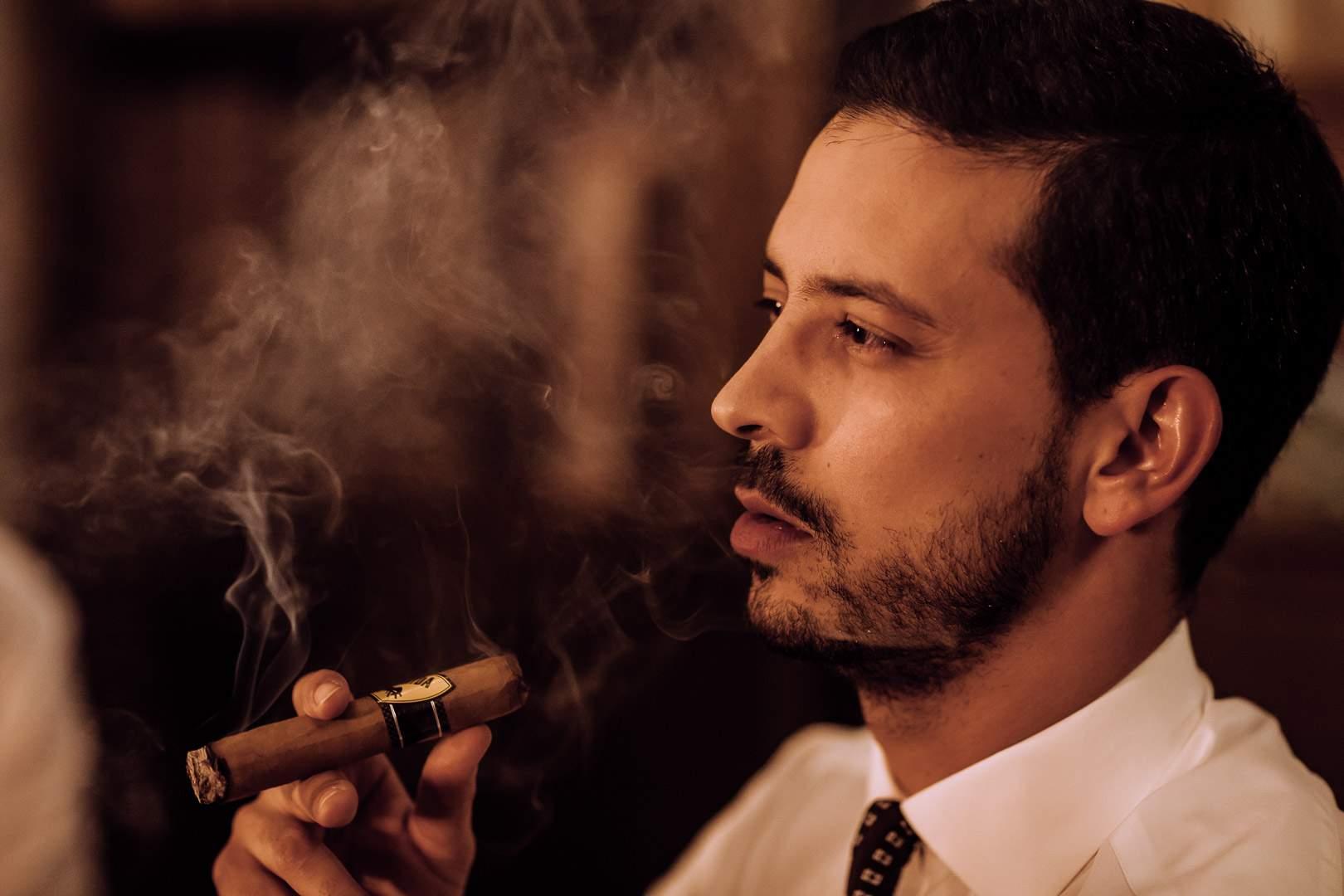 Tips and tricks
Tastes differ. Thus, as with other areas of life, the same is true for finding the perfect whiskey and cigar pairings. The proof is in the pudding. However, it is crucial that you can taste both components and that neither overpowers the other. Despite any individual desire for experimentation, it makes sense indeed to pair full-bodied cigars with a peaty whiskey and light-bodied cigars with a mild whiskey. The reason being that smoky, peaty whiskey overpowers all the delicate aromas of light-bodied cigars. Nonetheless, if you enjoy drinking smoky whiskeys, you should either start with a lighter drink after lighting the cigar or light the cigar on your way to the lounge, for instance. That way, you are taking the first sip of smoky whiskey when the cigar has already reached its last, most full-bodied third, and matches the strength of the whiskey.
Drink first, then puff
It would be best if you drank the whiskey in small sips to make sure the tobacco and alcohol are correctly balanced. First, wet your lips a little, take the first sip and let it linger in your mouth for a while – preferably between your teeth to allow some of the alcohol to evaporate – and then puff the cigar.
We do not recommend immersing the cigar head (mouth end) because the softened cigar could hinder airflow, or become unraveled. A tip for adventurous aficionados that don't wish to break the bank: New cigar-whiskey pairings are best tried at tastings or in a cigar lounge. If you don't like the whiskey or the pairing with the cigar, you didn't spend money on an entire bottle.
Recommended essential pairings
Which specific pairings are well-matched? Single malt whiskeys are preferable to blends in combination with Cuban cigars. Blended whiskeys, whose original aroma is quite powerful, harmonize better with Dominican cigars, whose bouquet is less rich, aromatic.
Light- and medium-bodied cigars pair well with a Speyside whiskey, which has a light and fruity body. This pairing creates a beautiful interplay of aromas when you puff the cigar after sipping your whiskey. It is also evident for cigarjournal.de that a fruity, fresh single malt with a sweet, vanilla note perfectly complements the rich taste of light-bodied cigars. The aficionadas and aficionados recommend a 16-year-old Lagavulin for more full-bodied cigars. The malty sweetness and the strong peat notes of the whiskey unfold wonderfully with the intense aromas of a VILLIGER SAN'DORO COLORADO, for example.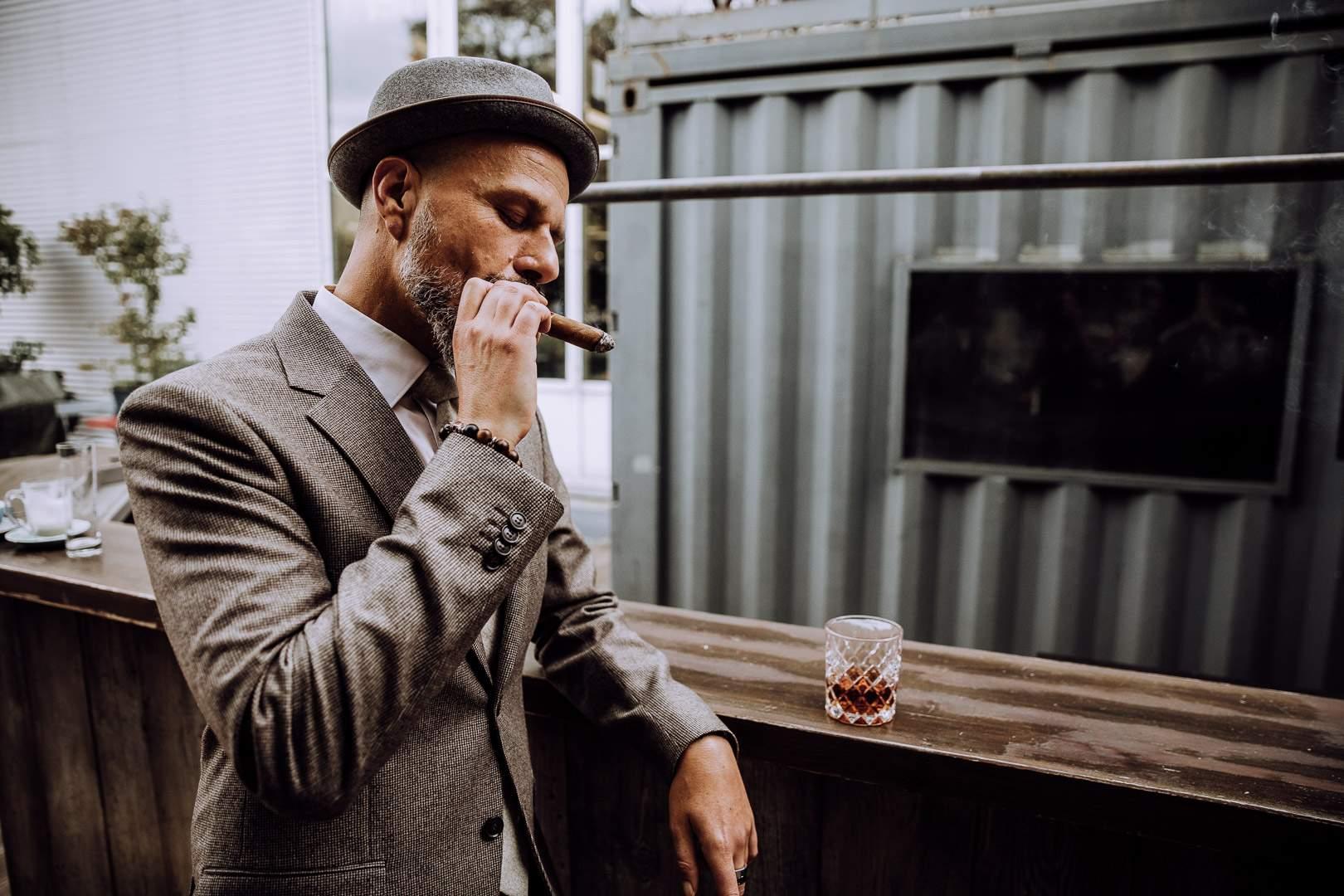 Recommended whiskeys for VILLIGER cigars
The VILLIGER aficionadas and aficionados recommend pairing quality cigars with a whiskey that emphasizes the bold and sometimes subtle aromas. For example, the earthy-spicy Russell's Reserve 1998 Kentucky Straight Bourbon Whiskey, with its cinnamon and licorice notes, stimulates the spicy qualities of VILLIGER'S Talanga. It leaves a note of vanilla and caramel, and a taste of Graham Cracker.
Moreover, the secret blend of the VILLIGER Celebration Toro unveils aromas that combine wonderfully with the fruity, honey-like taste of the Balvenie Single Barrel (a 15-year-old Single Malt Scotch Whiskey). For more recommendations on how to match cigars with whiskey or other drinks, see our blog "The ten best drinks to pair with a cigar".
Experience the ultimate pleasure
Did you know that the intensity curve of alcohol increases quickly initially and then decreases slowly, while the intensity of a cigar gradually increases during smoking? They behave that way because the aroma compounds of the drink tend to be on the surface, while they are located inside the cigar. Accordingly, the tobacco aromas are only released more intensively once you light it. Aficionado Willy Alvero (cited from shmckr.com) provides the fitting explanation: "Only if you have chosen the right pair, where the intensity of the cigar and the alcohol peak at the same time can you get the most satisfying experience."
Read the next story
The VILLIGER team on the trail of Swiss tobacco