Over centuries, the cigar has aroused the passion of connoisseurs in politics and the music and film industries alike. Even in sports, the cigar is a common sight at victory ceremonies held to celebrate titles won. For instance, the legendary Michael Jordan enjoyed his first cigar at such a ceremony.
The question then is what came first for cigar-smoking celebrities: fame or cigar smoking. Although the cigar has long since conquered much of society, it is still widely regarded as a symbol of success, luxury, power, and status. It thus stands to reason that people will only come in contact with cigar smoking after becoming celebrities and increasingly socializing in the relevant circles and social classes. This was undoubtedly the case in our first example of famous cigar smokers.
Politics – Castro and Schröder
The former German Chancellor Gerhard Schröder became an aficionado through his international political career. The top candidate of the Social Democratic Party of Germany (SPD) at the time, the 41-year old traveled to Cuba to meet the head of state Fidel Castro. After talks over coffee and rum, Schröder treated himself to a Cohiba. Castro even gifted the future chancellor a box of the finest Cuban cigars. Schröder has often been seen with a cigar since he would probably never have received from such a prominent figure without his political career.
Fidel Castro himself was a cigar fan before his 30th birthday already. In many pictures, the cigar in his hand or mouth portrays charisma, power, and a certain degree of aggression that the Cuban dictator wanted to exude.
Politics – Bismarck and Churchill
Otto von Bismarck supposedly smoked up to 15 cigars a day. Several notable quotes from the first Chancellor of the German Empire have also been passed down. For example, the following sentence is attributed to him: "One should always smoke a cigar before turning the world upside down." Nonetheless, it is interesting to note that following a battle, Bismarck is quoted as saying, "No cigar has tasted better this one – which I did not smoke." Earlier, he had offered his cigar to a badly wounded soldier on the battlefield, who accepted it with a grateful smile.
One of the most influential statesmen of the 20th century is regarded not only as an aficionado but also as an ambassador of tobacco enjoyment: There is hardly a photo of Winston Churchill in which he is not puffing a cigar. The former British Prime Minister created his personal and political image around the cigar and the calm, authoritarian atmosphere it exudes. Churchill also became an aficionado after a visit to Cuba, albeit as a young officer. As a seasoned, war-tried prime minister, he later said of his recipe for success: "I drink a great deal. I sleep a little, and I smoke cigar after cigar. That is why I am in two-hundred-percent form." According to this logic, it is thus not surprising that his golden "[...] rule of life prescribed as absolutely sacred rite smoking cigars and also the drinking of alcohol before, after and if need be during all meals and in the intervals between them."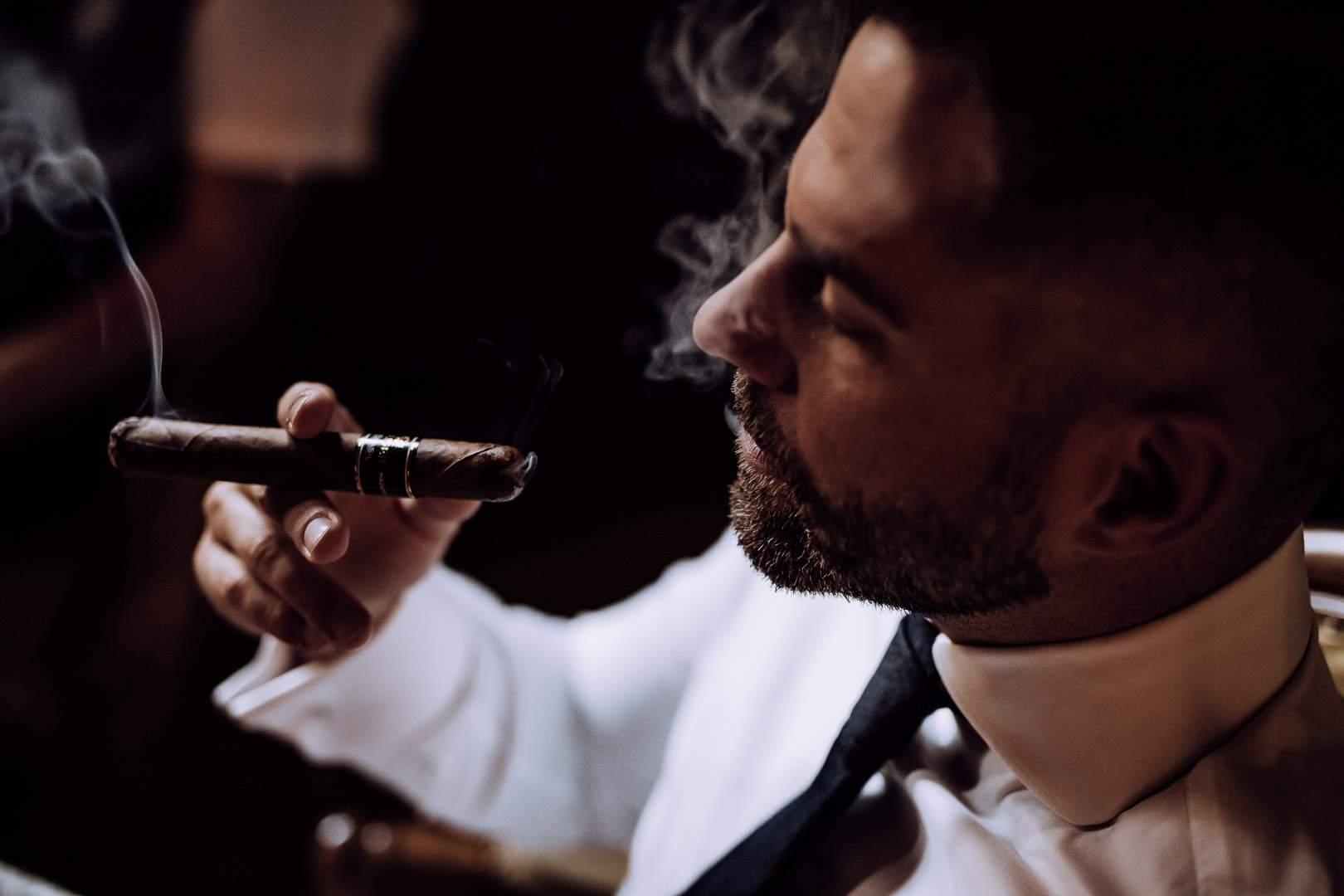 Sports – Schwarzenegger, Jordan, and golfers
Meanwhile, the former governor of California has also climbed the ladder of success. However, Arnold Schwarzenegger became world-famous as an actor in action movies like Terminator and, before that, as a successful bodybuilder. Schwarzenegger also never made a secret that he regularly indulged in a cigar as a bodybuilder back in the 1970s. The winner of multiple Mr. Universe titles acquired a taste for it through his then father of his girlfriend at a high-class tennis tournament. Since then, he has enjoyed a fine Havana even after becoming a screen legend and successful politician. Arni prefers to enjoy a good smoke while relaxing in the jacuzzi to be considerate of the family and the furniture.
Golf is a trendy sport among royals and aristocrats. Thus, it is not surprising that amateur and professional golfers alike can often be seen with a cigar – next to and on the golf course. Miguel Ángel Jiménez is a 21-time European Golf Tour champion and an ardent connoisseur of Cohibas.
Conversely, it is astonishing that professional athletes such as basketball legend Michael Jordan smoked cigars regularly, even during their careers. He puffed his first cigar (as is common in other sports) in 1991 after winning the NBA championship with the Chicago Bulls. Near the end of his career, Jordan is said to have even indulged in the odd cigar on his way to home matches in the stadium. He also demonstrated his love for "a good smoke" in 2012 when he had a humidor built for over 12 million dollars.
Music – Rihanna, Ice Cube, and Madonna
If you consider what a calming and grounding effect the extensive enjoyment of a cigar has, then it is not surprising that musicians like to treat themselves to a relaxing smoke. They are under tremendous pressure not just from concerts but every step they take in public. World stars like Rihanna, Ice Cube, or even pop icon Madonna deal with this pressure by treating themselves to pleasurable moments with a fine cigar. The famous Australian soprano Nellie Melba even claims that she owes her outstanding voice, in part, to the occasional enjoyment of a cigar.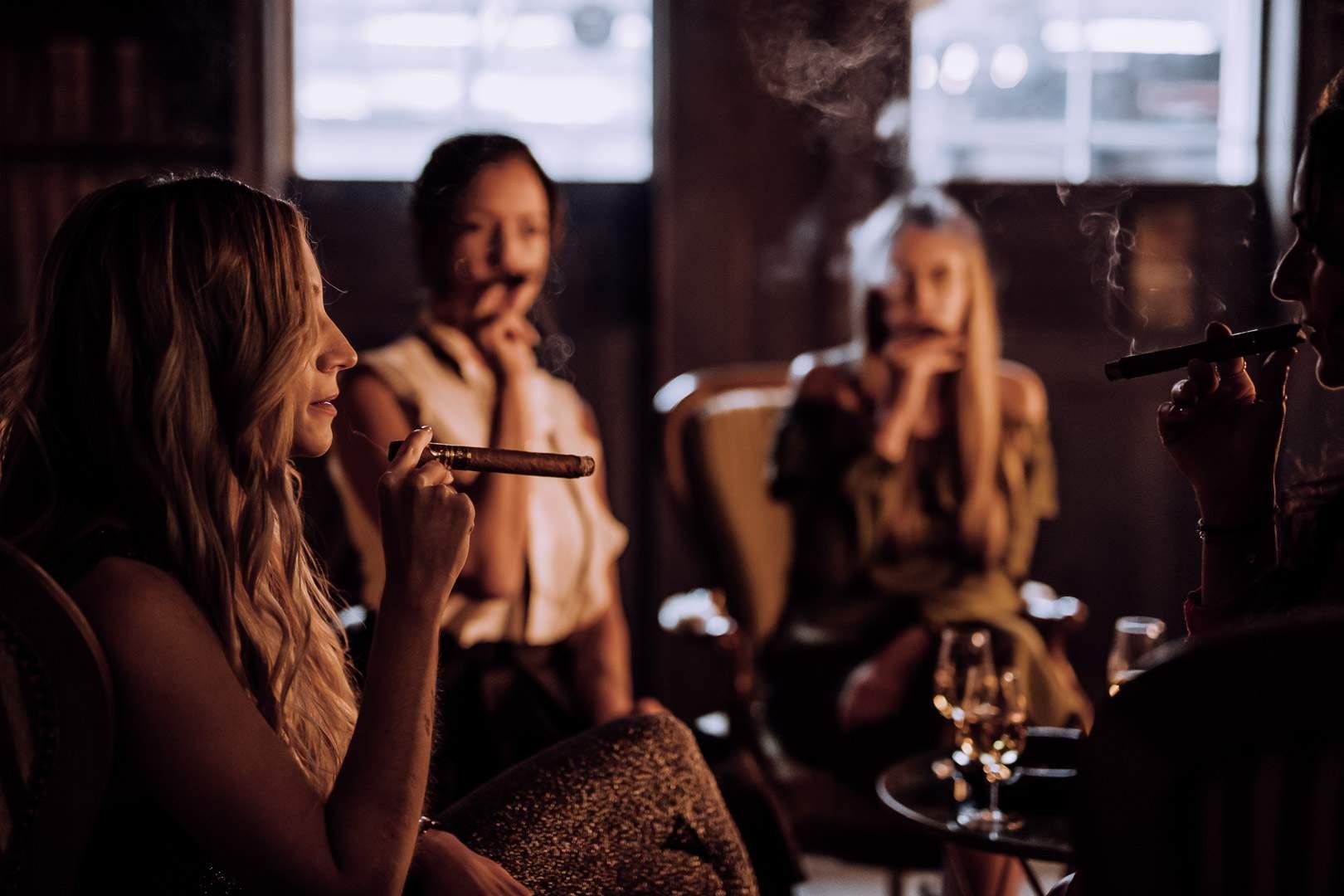 Movies – Douglas, Moore, and Stone
Cigars are more widespread and popular in Hollywood than in the music scene – in part, thanks to legendary films. They can be found not only at movie awards ceremonies or on film sets but also in movies themselves: Scenes from classics include "Wall Street," where Michael Douglas plays the successful stockbroker Gordon Gekko who enjoys cigars with relish, or "The Godfather," where Al Pacino plays the "Godfather," thus turning the cigar into a symbol of strength and masculinity. When he first appeared on screen, James Bond was portrayed as a cigarette smoker owing to the underlying books. The cigarette-smoking British secret agent only became a cigar connoisseur with the arrival of aficionado Roger Moore in 1973's "Live and Let Die."
Where else could the cigar have become a symbol for independent, strong women, like Demi Moore, Sharon Stone, Jodie Foster, or Whoopi Goldberg, if not in the film industry? The singer and Sister Act actress is even said to have been smoking Cuban cigars since she was a teenager.
Literature – Twain, Freud, and Sand
From the moving image to the printed letter: There were, and still are, many authors who regularly indulged in a good smoke. They also knew how to put their enjoyment of and passion for cigars into words. As Mark Twain put it: "If I can not smoke cigars in heaven, then I shall not go!" The creator of Tom Sawyer and Huckleberry Finn noted with a glint in his eye: "Giving up smoking is the easiest thing in the world. I know because I've done it thousands of times." Sigmund Freud would not have let himself be deprived of the pleasures of a fine cigar either. After all, "I owe to the cigar a great intensification of my capacity to work and a facilitation of my self-control." The founder of psychoanalysis noted: "Smoking is a substitute for those who were insufficiently nursed in childhood."
Amantine Aurore Lucile Dupin de Francueil was a French novelist in the 19th century who wrote novels, novellas, and plays. Not only was she a passionate aficionada herself, but she also championed sociocritical and feminist causes. She chose to publish her work using the pseudonym George Sands to increase her chances of success in a male-dominated world. She must have experienced a lot of suffering and pain due to her work and her fight for women's rights and more disadvantaged groups in society. Tobacco seemed to have been a welcome ally for her: "A cigar numbs sorrow and fills the solitary hours with a million gracious images."
Read the next story
The VILLIGER team on the trail of Swiss tobacco