Whether at restaurants, hotels or independent stores, you'll find a cigar lounge in almost every city in Switzerland. So if you're visiting Switzerland, you'll always find a stylish place to relax and have a smoke. Let us take you on a journey from East to West and introduce you to ten Swiss cigar lounges.
The www.zigarren-lounge.ch portal lists 189 cigar lounges in 18 Swiss cantons. The fact that it mentions only one lounge in Geneva highlights that this is not an exhaustive list of all cigar lounges in Switzerland. Below we introduce you to ten selected Swiss cigar lounges. Some of which are not (yet) listed on the portal mentioned above.
Renaissance Bar at Badrutt's Palace Hotel – St. Moritz
Can't get any more stylish than this: The "Renaissance Bar – Vintage Cigar Lounge" at Badrutt's Palace Hotel in St. Moritz is the perfect place to experience the ultimate glamorous ambience. The bar serves classic drinks, cocktails, and rarities from the extensive cigar and whisky menu at any time of day to the delight of aficionados and aficionadas alike. Whether you choose to sit by the big stone hearth or on one of the original leather bar stools, the Renaissance Bar's inviting ambiance makes it the perfect place for socializing.
Manuel's – Zurich
Visit Cuba in the heart of Zurich! Cigar and coffee expert Manuel Fröhlich and his up-and-coming team run an atmospheric café bar on the first floor with an impressive selection of rum, coffee, and Cuban specialties – notably refreshing Cuban cocktails. The second-floor welcomes aficionadas and aficionados with the finest cigars in a walk-in humidor and a cigar lounge that exudes a Hemingway feel.
Lakeview Bar & Cigar-Lounge – Bürgenstock
The elegant Lakeview Bar & Cigar Lounge at the Bürgenstock Hotel & Resort offers guests a stunning view of Lake Lucerne and the mountain panorama. The spacious walk-in humidor holds treasures from Cuba, the Dominican Republic, and Switzerland just waiting to be discovered. The drinks menu includes signature cigar drinks – like The Cigar, with blended scotch, lime juice, Italian vermouth, and orange liqueur.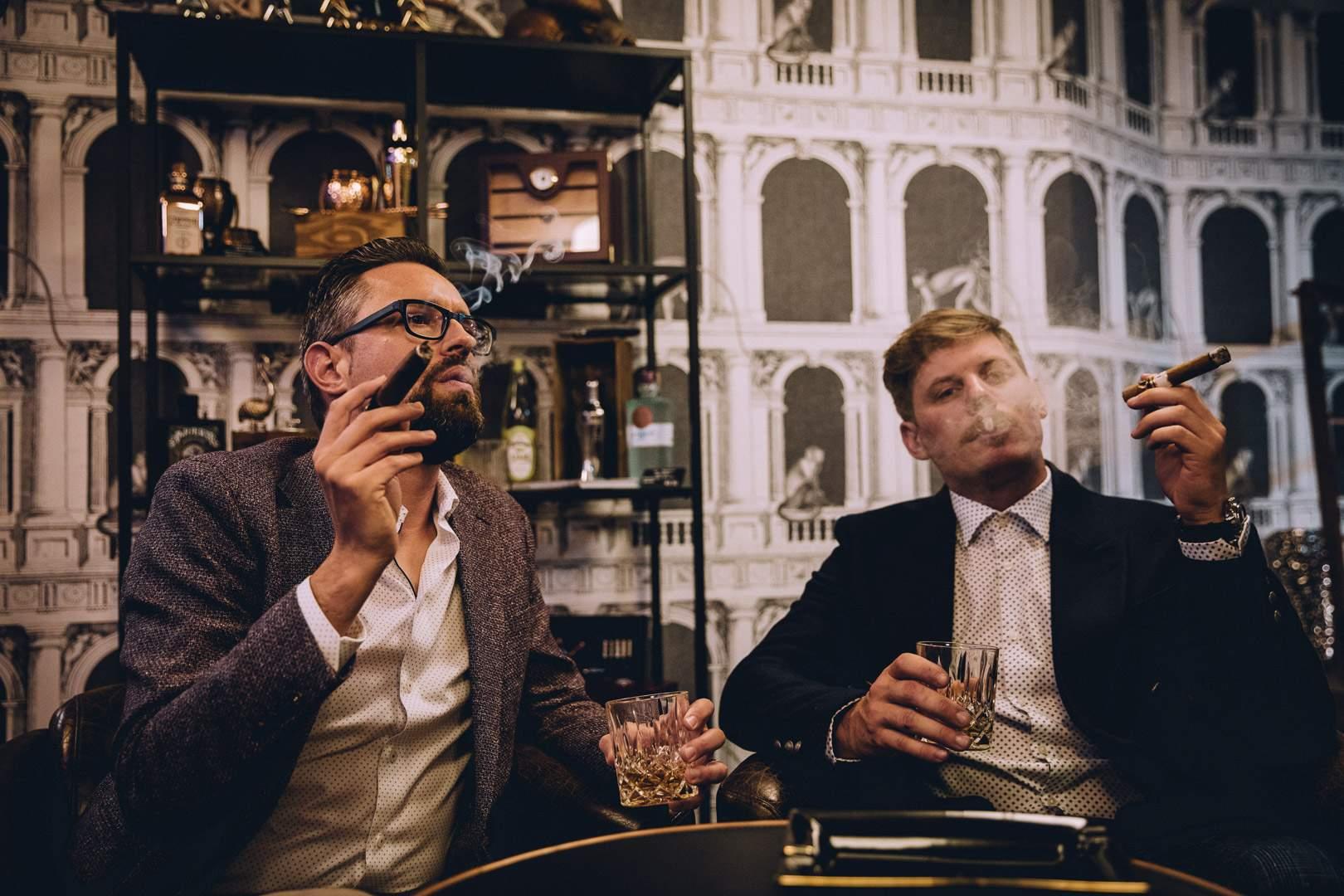 Bar Havana Deck at the Suite Hotel Parco Paradiso – Lugano
The Havana Deck at the Parco Paradiso in Lugano is a hidden gem. The popular lounge is stylishly furnished and offers a spectacular view of Lake Lugano. The bar charms its guests with excellent cocktails and exclusive cigars. However, the selection is modest. Therefore, you might want to bring your own favorite cigar.
Salon du Cigare at the Grand Hotel Les Trois Rois – Basel
The Salon du Cigare at the Grand Hotel Les Trois Rois welcomes aficionados and aficionadas to relax in a cozy atmosphere with a view over the Rhine. The spacious walk-in humidor holds classics from the Dominican Republic and Cuba alongside insider tips from unconventional countries of origin. Guests will find their favorite cigar using the virtual advice system on the iPad. On top of that, the bar menu features a wide choice of drinks and fine wines served by the glass that will provide the perfect accompaniment to their chosen smoke.
Smokers Lounge at the Grand Hotel Zermatterhof – Zermatt
The Smokers Lounge in the Stars Bar at the Grand Hotel Zermatterhof has a charm of its own – lots of wood, dark marble floors, striped wallpaper in gold and black, and a three-meter-high floor lamp. This ambiance welcomes guests to relax and enjoy the view of the majestic Matterhorn. The two spacious humidors hold exquisite cigars from the Dominican Republic, Cuba, Nicaragua, Honduras, and Brazil. In addition to the renowned cigar manufacturers, you will also find cigars from smaller producers. And if you are looking to perfect the taste experience with a drink, the drinks menu has you sorted with pairing tips in the Whisky & Cigar section.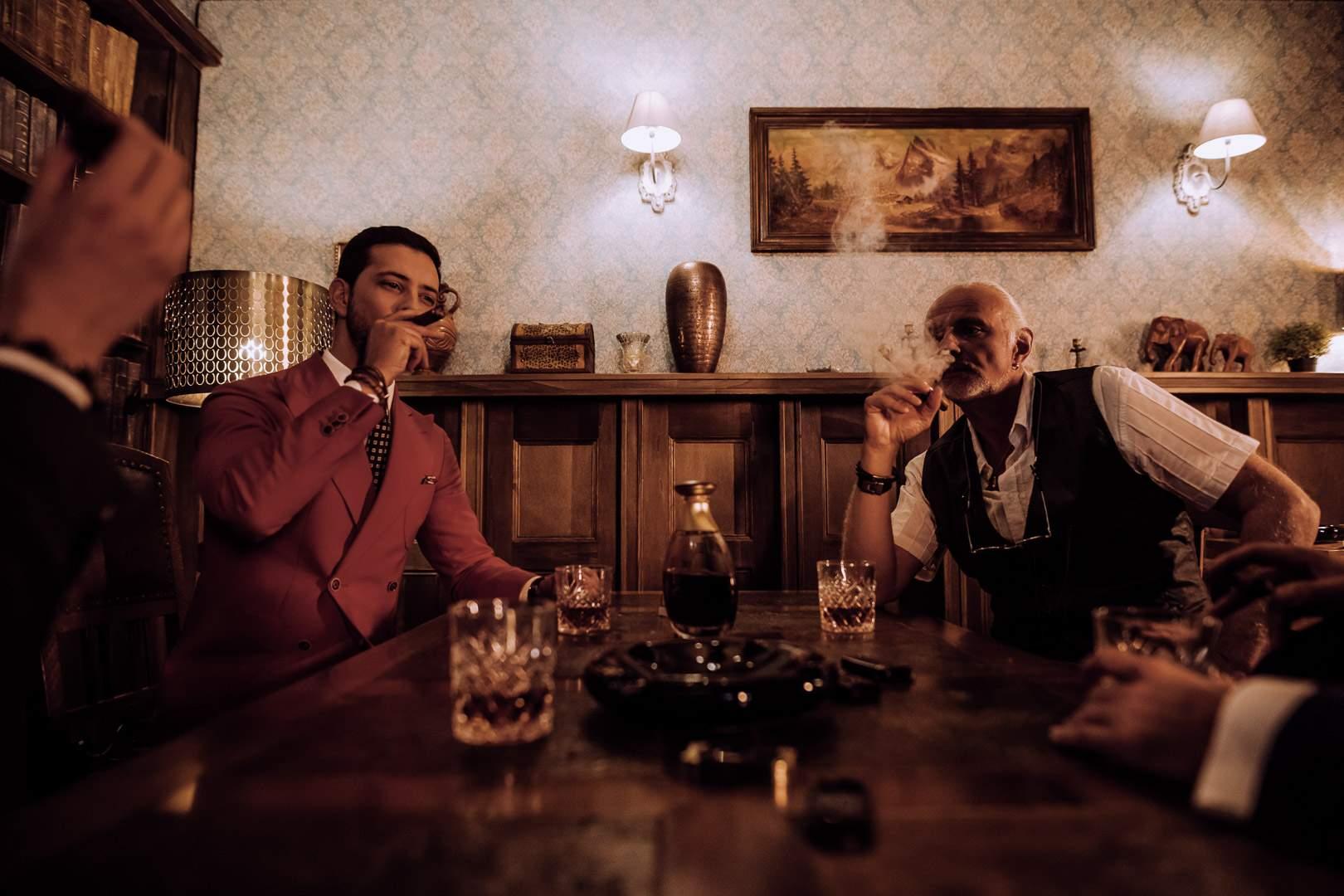 Le Fumoir at Hotel Bellevue Palace – Bern
"Le Fumoir" at the Hotel Bellevue Palace in Bern is devoted to aficionados of fine tobacco. It offers a wide selection of Cuban cigars, including some rare Cohibas, complemented by selected cigars from other Latin American countries. It is a place where aficionadas and aficionados can peacefully indulge in their passion. The cigar menu may be small but excellent. Drinks and culinary classics are also served to complement the exquisite smoke in a stylish ambiance.
Cigar Lounge at Hotel Royal Savoy – Lausanne
In addition to the stylish bar, the Hotel Royal Savoy in Lausanne features a beautifully furnished cigar lounge with a walk-in humidor and a selection of premium cigars. The historical building is an oasis of calm, enhanced only by the sublime view. Club members can savor exceptional varieties and spirits while taking part in exclusive events.
Cigar Lounge at Hotel La Réserve – Geneva
Guests at the La Réserve Hotel in Geneva enjoy their smoke in leather armchairs or sofas in the Cigar Lounge. Three things make this cigar lounge unique: It is open daily and around the clock. Cigars are not only paired with fine wines but also delicious tapas. Should you not be happy with the somewhat limited selection of cigars. In that case, you can rent a humidor to store your cigars.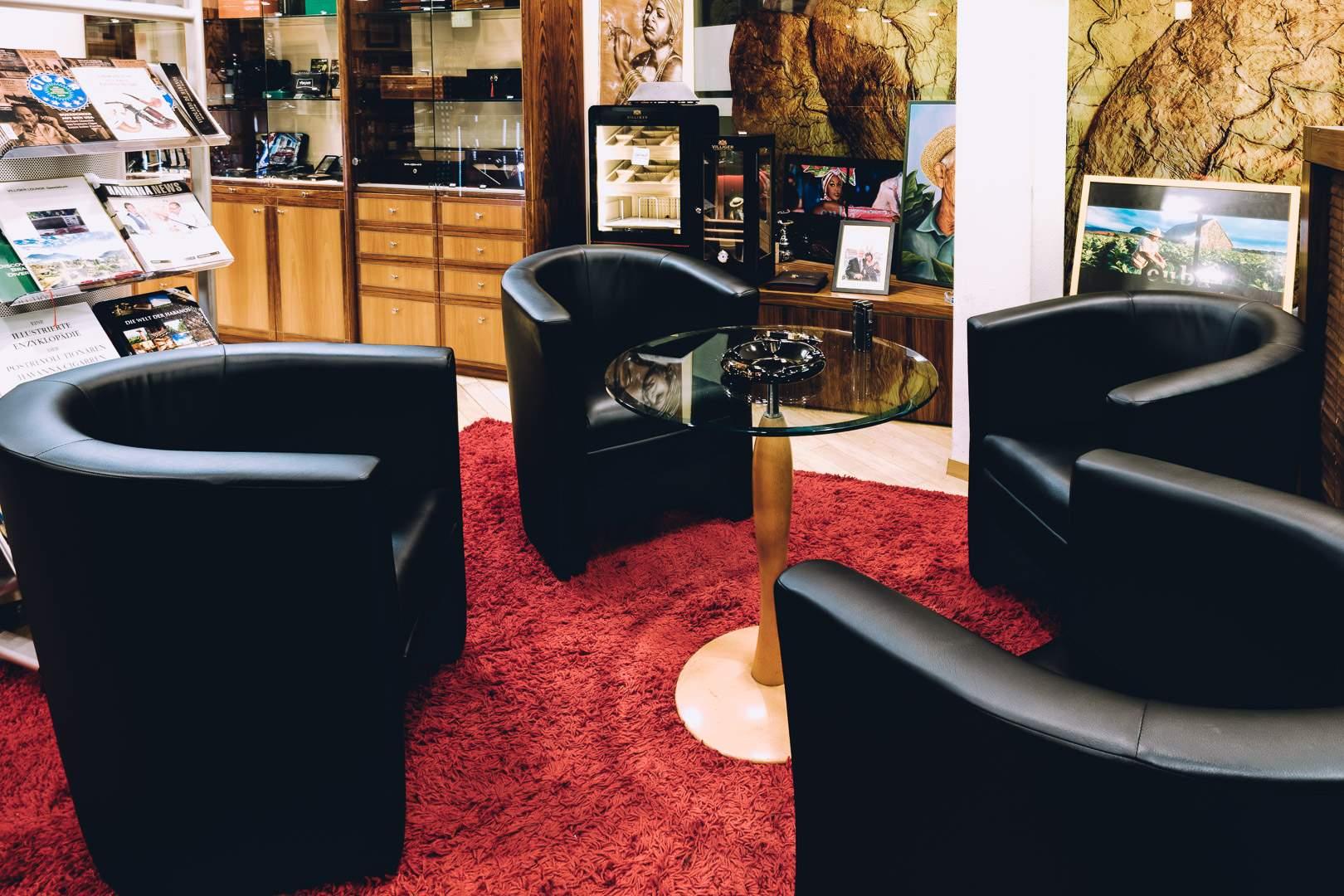 VILLIGER Store Bern
At the end of our trip, we return to the capital once more. Here, at the VILLIGER store in Bern located at the Neuengasse 15/9, shopping transforms into an experience. The store offers a walk-in humidor with a significant selection of quality cigars, cigarillos, pipe blends, and accessories for aficionadas and aficionados. You can also relax and take some time off to smoke inside the cigar store.
Your favorite lounge
Did you miss a cigar lounge in this list? Where do you prefer to enjoy your cigar? What experience in a cigar lounge do you remember particularly well? Write us lounge@villigercigars.com.
Read the next story
VILLIGER's commitment to a sustainable mountain environment.